MOECKLI FINANCE AND MANAGEMENT SUPPORTS BANKS, FINANCIAL INSTITUTIONS AND OTHER COMPANIES WITH COMPREHENSIVE SERVICES AT BOARD AND EXECUTIVE LEVEL.
WE MOVE YOUR COMPANY FORWARD
Memberships of Board of Directors and Advisory Boards • Interim Management • Restructuring & Remediation • Corporate Performance • Digitalization • IT-Transformations • Operational Optimizations • Investor Relations & Communications • Merger & Acquisitions • Contact Mediation
ALFRED W. MOECKLI, owner and principal of Moeckli Finance and Management Ltd, has more than 20 years of international experience as a Member of Board of Directors, Chief Executive Officer or Chief Operating Officer of various banks and publicly listed companies. He brings profound knowledge of the financial industry and has comprehensive know-how of operational and strategic leadership challenges. Since 2019 Alfred W. Moeckli uses his expertise to support international financial Institutions and other companies in optimization and/or transformation processes.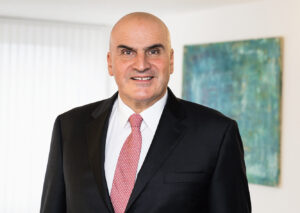 REFERENCES that speak for themselves:
Between 2013 and 2019, Alfred W. Moeckli, in his function as Group Chief Executive Officer of VP Bank Ltd, has more than doubled the average yearly profit and share price of VP Bank. During that time, he also completed and successfully integrated three M&A acquisitions.
From 1999 to 2002, Alfred W. Moeckli was a co-founder and member of the Swissquote Group's Executive Management and was deeply involved in Swissquote's successful IPO. Following the IPO he built up Swissquote Bank – virtually as a greenfield project – from scratch.

Member of the Board
Union Securities Switzerland Ltd, Geneva
FINMA-Registered Securities Dealer
www.unionsecurities.ch

Member of the Board
Spirit Asset Management S.A., Luxembourg
Wealth & Asset Manager
Regulated by CSSF
www.spirit-am.lu

Member of the Board
Swiss Management Zürich AG, Zurich
Independent Financial Advisor
Registered as insurance intermediary by FINMA
www.smzh.ch